site last updated: 10/12/17
Welcome to the official web site of the NRCCHA!
The goal of the NRCCHA is to keep you on top of the latest association news,
events, results and the latest standings.
You can now enter our shows online. Check out the Online Entry!
Click here to view all upcoming events.
PRESIDENT'S MESSAGE
Dear Fellow Members:

As many of you know, we suffered a great loss this fall with the sudden passing of our longtime Board member, Craig Dotson. After a brief battle with cancer, Craig passed away on September 7, 2017. I was proud and privileged to call Craig my friend, my neighbor, and a fellow Board member. Craig was one of the hardest working members of our Board – always there to lend a helping hand with whatever task was required. He would get equipment whenever and wherever needed and also pepper us with a bit of dry humor to make us smile. He will be sorely missed by all of us at NRCCHA. Our sincere condolences go out to his wife, Carol, daughter, Ashley, sons, Brett and Ryan, and other family. A Celebration of Life will be held October 20, 2017, at The Grove located at 95 Foothill Road, Reno, Nevada. Rest in peace, Craig.

On a more positive note, we had a very successful cutting year with two great shows in Winnemucca and at the Stix feedlot. Year-end standings will be posted soon along with saddle winners. Our reined cow horse shows were also well attended and those standings are already posted on the website. Be on the lookout for our year-end awards banquet and 2018 show schedule.

Kathy Breckenridge, President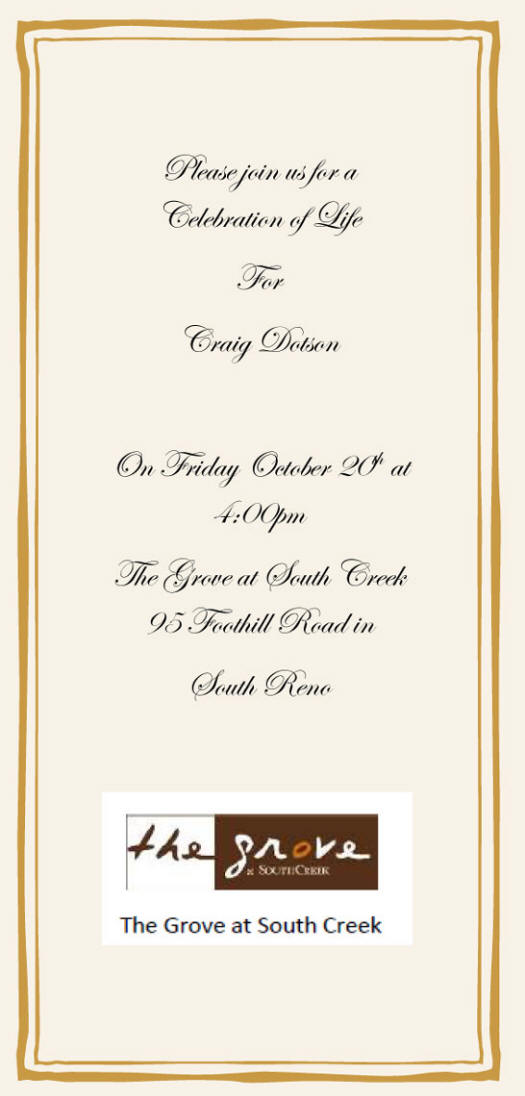 ---
NEWS AND UPDATES
For all the latest news plus a letter from the President, visit our Newsletter page.

---
Latest Results and Standings:
Click on links below
CLASSES APPROVED FOR YEAR END AWARDS:
| | |
| --- | --- |
| CUTTING: | Open – Non Pro - $50,000 Amateur - $25,000 Novice - $5,000 Novice - $35,000 Non Pro - $15,000 Amateur - $25,000 Novice Non Pro - $5,000 Novice Non Pro - $2,000 Limit Rider – Youth - $2500 Novice – Open Derby – Non Pro Derby -5/6 Open - 5/6 NonPro |
| COW HORSE: | Open Snaffle Bit - Open Hackamore - Open Bridle – Non Pro Bridle – Youth – Non Pro Limited (Formerly Buckaroo) - Combined Two Rein/Green Bridle, Combined Non Pro Snaffle Bit/Hackamore |
We will be awarding a saddle to the highest combined qualified money winner in the $35KNP, $15KAM and $2K Limited Rider classes. We will also be awarding a saddle to the highest qualified money winner of the $50K AM class as well this year.
All owners and riders showing in an NRC & CHA produced show must be current members. To be eligible for year end awards: CUTTERS must show in 50% of the NRC & CHA approved shows – COW HORSE RIDERS must show in 50% of the NRC & CHA produced shows to be eligible for year end awards.
Please note that most of the documents on our website require Adobe Reader to view. Don't have Adobe Reader? Click here for a free download.
---
NRCCHA GENERAL INQUIRIES
Nancy Samon
Washoe Valley NV
775.849.0641
nasamon@msn.com